The year 1882, Fransisca Fincent was married three times, widowed twice and mother of 10 children. With her first husband François de Fonseca who was of Spanish noble descent, she had five children and with her second husband, Felix Vandepitte, a miller from Aalter, she had two children. Finally, she married Louis De Vos with whom she had three more children. Father The Fox was miller and next to the mill, Fransisca had her inn. This served as a waiting room for the farmers who came to grind their grain there. The farmers paid the miller with two scoops of flour from each bag that was ground. That flour was used to bake bread. So one could eat bread with smoked ham, "flat cheese" or peasant omelette at the inn.
Franciska was joined by her brood "Mother Siska" and soon she was addressed that way by everyone. When she went on a trip to Amsterdam, Mother Siska saw a painting of a waffle iron with four hearts. Once back home, she had her brother-in-law who was a blacksmith in De Pinte paint a waffle iron forging with five hearts. Thus, she had per two waffles a heart for every child and always at every birthday, waffles were baked.
In the Mother Siska's inn sales were organised by notaries. When a notary from Antwerp tasted the waffles of Mother Siska's children, he asked her to organise a similar waffle party for his daughter. The party was such a success and thus marked the beginning of waffle sales on demand.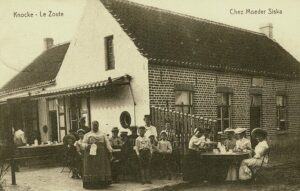 Mother Siska's inn became a meeting point for tourists coming from Heist. A horse and cart ride was put in to bring the people. Ten years later, in 1892, people could also taste the speciality without pre-ordering. The ever-growing number of visitors made it necessary to expand. In the garden they placed trestle tables and Mother Siska bought folding chairs from a bankrupt circus. These chairs served until 1987 and are still in our possession. The sons of Mother Siska baked the waffles on a wood fire and did the heavy lifting, while the daughters served up at the inn. In winter, the children to Wallonia to work there and their Brushing up on French in order to better serve the mainly French-speaking clientele.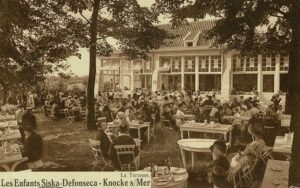 Mother Siska's waffle house was so successful that two sons and three daughters at 1907 A second waffle house, "With the children Siska", on Oosthoekplein opened. Her youngest daughter, Marie, also wanted to follow her example when World War I broke out in 1914. Mother Siska died in 1918 as a result of Spanish flu and was not allowed to witness the opening of the third case.
Marie had gained experience from mother and sisters and was determined that the third Siska would be the biggest, most beautiful and best located. Thus, she opened in 1919, "At the daughter Siska", which a year later would turn into "Marie Siska".
Her example was followed by her youngest brother who in 1923 "Gustave Siska" opened.
Mother Siska's granddaughter would be in 1936 the fifth Siska opening in St Idesbald near Koksijde. This business bore the name "Siska du Zoute" referring to the famous business in Het Zoute.
Until after World War II, the Siskas continued to grow and contributed to the tourist developments of Het Zoute. Unlike their mother, only some of Mother Siska's children were married. Thus, they had Marie Siska a daughter and a son. Her son, Urbain Dossche, would be in 1949 together with his wife Georgette Marie Siska take over. His sister, Germaine Dossche, took Kinders Siska about from the aunts.
Urbain and his wife began expanding Marie Siska. They added a mini-golf club and also expanded the menu to restaurant level. Marie Siska became known far beyond the country's borders. Stars who came to perform at the casino invariably visited Marie Siska and its famous waffles.
Paul Anka, Josephine Baker, Martine Carol, Ava Gardner, Gilbert Bécaud, Etchika Choureau and The Platters were guests here. It was also an honour to King Leopold III and Queen Astrid welcome to Marie Siska's house. They had a country house in the Zwin and after the war, the king regularly came to eat waffles after a game of golf with his friends. He took his seat in a separate room and the table at which he sat was called the "King's table" mentioned. You can still take a seat at this table at Marie Siska.
At 1967 was Marie Siska complete rebuilt except for the waffle bakery. A complex with 450 seats inside and 550 outside emerged. In 1987 The business was transferred to grandson Stefan Dossche and his wife Nathalie. Firm investments were made again. A hotel with seven luxury rooms was added. The playground was completely renovated and Marie Siska underwent a metamorphosis.
The new generation of royal children are now guests there, and for many, Marie Siska has become "the Institute" of Het Zoute. In season, more than 1,000 freshly baked waffles are sold daily. These are still made according to the secret recipe baked. In addition, the restaurant also has an important place. The mini-golf club sponsored by clothing brand River Woods organises a tournament for children every August, making it the perfect place for a fun afternoon.
The parental home "Mother Siska" was sold and demolished in 1975. Fortunately, the mill was spared and now serves as a residence.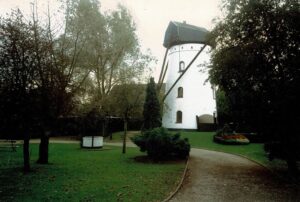 Gustave Siska was sold two years after its inception due to illness before finally going under the hammer in 2009 to make way for a residence. The Siska in St Idesbald was sold in 1960 and is still operated. Finally, the owner of Kinders Siska decided to sell his business to a real estate agent in 2011.
This is how it came about that Marie Siska is the only waffle house that is still family-run and sells the original waffles.
Meanwhile, we celebrate 140 years of Siska waffles and the fifth generation, Marie-Julie Dossche, joined the business and let us hope she will also continue this tasty tradition of the Salt.
Dossche family, Marie Siska